Running a Marathon: Best Underwear To Prevent Chafing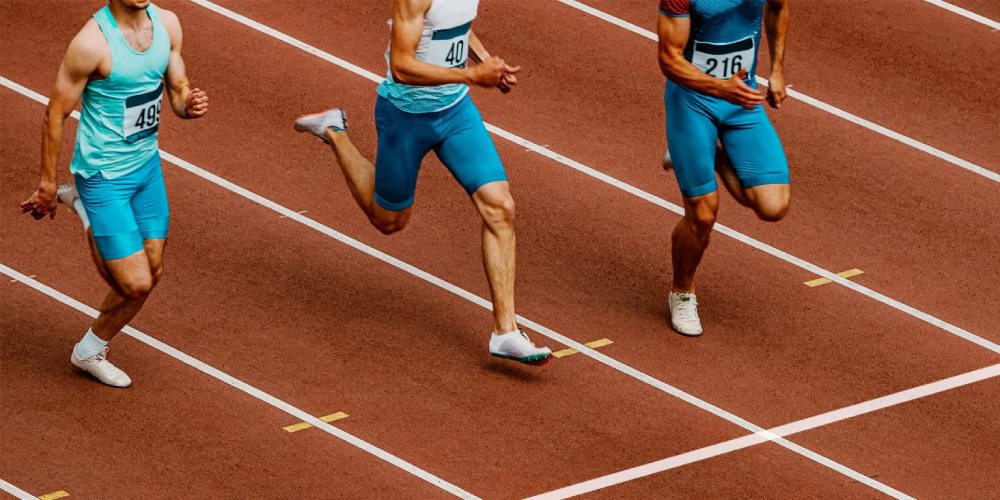 Whether you're a novice or you've participated in marathons before, training for a marathon is no easy feat. Let's face it. If you're close to the big day, you've already moved mountains to get there. While dedication and determination will help see you through, one thing that could get between you and the finish line is the painful irritation and discomfort in your nether regions known as chafing.
Today, we will explore how choosing the right underwear is crucial to preventing chafing and keeping you free from pain and discomfort during a marathon, so you can be your best self as you prepare for the big race.
Dealing With Chafe 
If you're a running pro, chances are you're aware of this painful issue and already may have methods for dealing with it. Whether that be with the right running clothes or a locker full of lotions and potions, you'll know that the trick is to either have a protective layer of material between skin that touches with each stride or to make the area slick so that there is plenty of glide and little-to-no rub.
If you're a little newer to the game, say yet to hit your first 10k, you may, as yet, be blissfully unaware of friction pain and how it can damage your performance. Lack of training might be the number one reason you fail to complete a race, but the clothes and toiletries in your race kit can also stand in your way. Choose wisely, and your mind and body will be free to focus on the task at hand. 
A little research on the right websites will reveal a ton of information on picking the best footwear, the right socks, and even the perfect outer layer, no matter the weather for your marathon experience. However, what gets neglected time and again, even by the very best running sites, is underwear. It may not be the first thing you consider as a crucial item for the race. But having the right kind of performance underwear will make sure you have a supportive foundation to be at your top performance and can make all the difference to your race-day experience. 
Why Underwear Matters 
When it comes to endurance sports, you need to feel comfortable from the outset. Every aspect of your outfit should be carefully thought out. And don't forget that old adage about never going for new on the day. You want to be sure each part of your kit is tried and true. If something feels off at mile one, you can only imagine what it'll feel like at mile 13 and beyond… This is as much the case for your underwear as it is for everything else. 
Underwear is crucial to both comfort and movement when running. It's the layer that is closest to your skin, which can arguably make the most difference (for your boys, at least) in keeping your parts supported cool, comfortable, and chafe-free. While you may be able to get away with other types of underwear in day to day life, when it comes to high-intensity sports, your underwear will have to work a lot harder for you and it's best to choose performance underwear.
Performance Underwear: The Gold Standard
While performance underwear will make sure you are supported and comfortable for any situation, it's when you're really testing the limits of what you can do (like running a marathon!) that these briefs truly shine. 
Here are the key features you'll want to look for in your anti chafe performance underwear for race day and beyond!
Smooth, Supportive Fit
When you're used to running in loose boxers with everything bouncing and moving with every step, you won't believe the difference that a snug, well-fitting pair of briefs can make. Unlike tight regular underwear that mashes everything up together between your legs (the last place you want your package while running), performance underwear is designed to keep your parts supported and up out of the way of your legs. Whether you opt for pouch or pouch-free, you'll feel the difference. 
Seamless Construction 
While it pays to have your running underwear a little longer to reduce the amount of skin-on-skin contact, seams can be another issue in the big, bad world of rub. Seams and the stitching that goes alongside them can feel incredibly uncomfortable. Not only do they reduce the amount of movement within the fabric, but they create a coarse surface that undoes all the good done by the otherwise smooth material that slides rather than sticks. Trust us when we say seamless is best here. 
Quick-Drying Fabric 
And while we're on the subject of fabric, anyone who has worn the wrong material of underwear in the summertime knows just how swampy things can get down there. The best kind of active underwear will remove excess sweat from the skin and dry quickly, keeping moisture away from your body. 
Think of it this way.  A damp atmosphere down there paves the way for friction and, yep, you've guessed it, chafing. With the right performance underwear, you can prevent this. 
Ventilated Airflow Design 
Another way performance underwear fights the epic battle against chafe is with plenty of well-placed ventilation. This both reduces the overall amount of sweating, while quickly wicking it away when it does occur. Damp underwear and overly heated boys may seem like nothing when you're facing the mega challenge of a marathon, but you'll want to give yourself every chance to do your best when you're out there. That might not be possible when you're constantly thinking about how uncomfortable your nether regions feel. 
Support Without Restriction 
When it comes to choosing performance underwear you will want ones that offer sufficient support to keep your man parts in place without restricting range of movement. This may seem counterintuitive, but you have to find the right balance so things aren't moving around too much, while also not too tight and constricting. The right performance underwear will offer separation without restriction of movement to keep you comfortable and confident under pressure. 
With supportive performance underwear that helps you stay cool, comfortable and chafe-free all-day long, you will not only be ready to take on race day, but will also be prepared for any life's adventure that comes your way. 
On the field, and off the field, in the boardroom and beyond, take on the world without the chafe! 
Happy race day!
---
Also in Turq Talk