Athletic Underwear: We Answered Your Most Frequently Asked Questions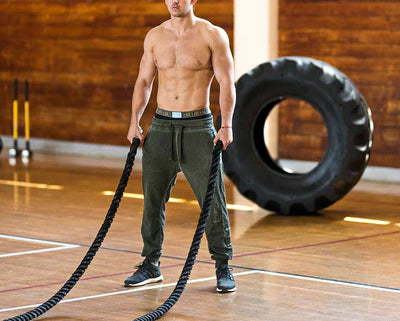 Underwear tends to get underestimated. It may seem such a small thing. But it provides a strong and supportive foundation for your man parts so it's pretty important. And when you get it wrong, you definitely know it! If your underwear is lacking, you may experience insufficient support for your nether regions, painful chafing or even nasty infections. 
So, what's the solution? High-performance athletic underwear designed to live up to your active lifestyle and help you reach your potential anywhere the day's and night's adventures take you!
Still undecided about athletic underwear? Let's dive into the most pressing questions about athletic underwear to help you decide if it's the right choice for you. 
Q: What exactly is athletic underwear?
A: Athletic underwear is a type of underwear specifically designed for physical activity such as sports and exercise. It provides optimal support, flexibility, lift, as well as sweat-wicking capabilities, making it the best underwear pick for men on the move. 
Q: Why do I need athletic underwear?
A: Regular underwear simply isn't designed to live up to an active lifestyle. Athletic underwear on the other hand, is designed to stay in place during vigorous physical activity without limiting range of movement. It also wards off irritating chafing, and helps maintain a cool, comfortable, hygienic and odor-free environment in your nether regions all day long. 
Q: What are some features of athletic underwear?
A: Athletic underwear is constructed from moisture-wicking fabrics that draw sweat away from the skin while regular cotton underwear traps it right into the material creating that all-too-familiar, uncomfortable and damp feeling. Seam-free construction eliminates chafing, and ventilated panels keep you cool and dry. Certain styles even have a dedicated pouch for your man parts for extra support and separation. 
Q: What styles of athletic underwear are available?
A: There are many types of athletic underwear available—everything from briefs to boxer briefs, compression shorts, and trucks. Designed to suit different preferences and purposes, they come in varying lengths and coverage options and offer a range of features, so you can choose the one that works best for you.
Q: What materials are athletic underwear made from?
A: Much like the rest of your workout gear, athletic underwear is typically made from lightweight, breathable materials such as polyester, spandex, and nylon. These are designed to be durable, comfortable, and supportive while still allowing for a full range of motion during physical activity. 
Q: Can women wear athletic underwear too?
A: As with men's athletic underwear, there are many styles available for women too. These usually feature the same seamless construction, ventilation, and moisture-wicking capabilities for enhanced comfort, even during the most strenuous of workouts. 
Q: Can I wear athletic underwear for everyday use?
A: While some types of athletic underwear may be specifically suited for certain types of sports and a little tighter or more restrictive than you would want outside of the gym, high performance athletic underwear generally can be comfortably worn all day long.
Q: How do I care for my athletic underwear?
A: As this kind of underwear can be made from a variety of materials, it is important that you pay close attention to the care instructions provided by the manufacturer to keep them in the best condition possible. Most can be machine washed and dried, but some may require special care. 
Q: Where can I find high-quality athletic underwear?
A: Turq Sport offers a wide selection of high-quality athletic underwear for men. Every pair is designed with comfort and performance in mind. Seamless construction allows for a snug yet flexible fit, silver-infused antimicrobial microfibers provide all-day odor control. Ventilated airflow fabric keeps your nether regions cool and sweat-free right through your workout. The perfect counterpart to the Turq OG, the Paradise Pouch offers you an even greater level of support and separation so you can feel confidently comfortable no matter where your day takes you. 
---
Also in Turq Talk