Materials Matters: Comparing Different Fabrics For Men's Underwear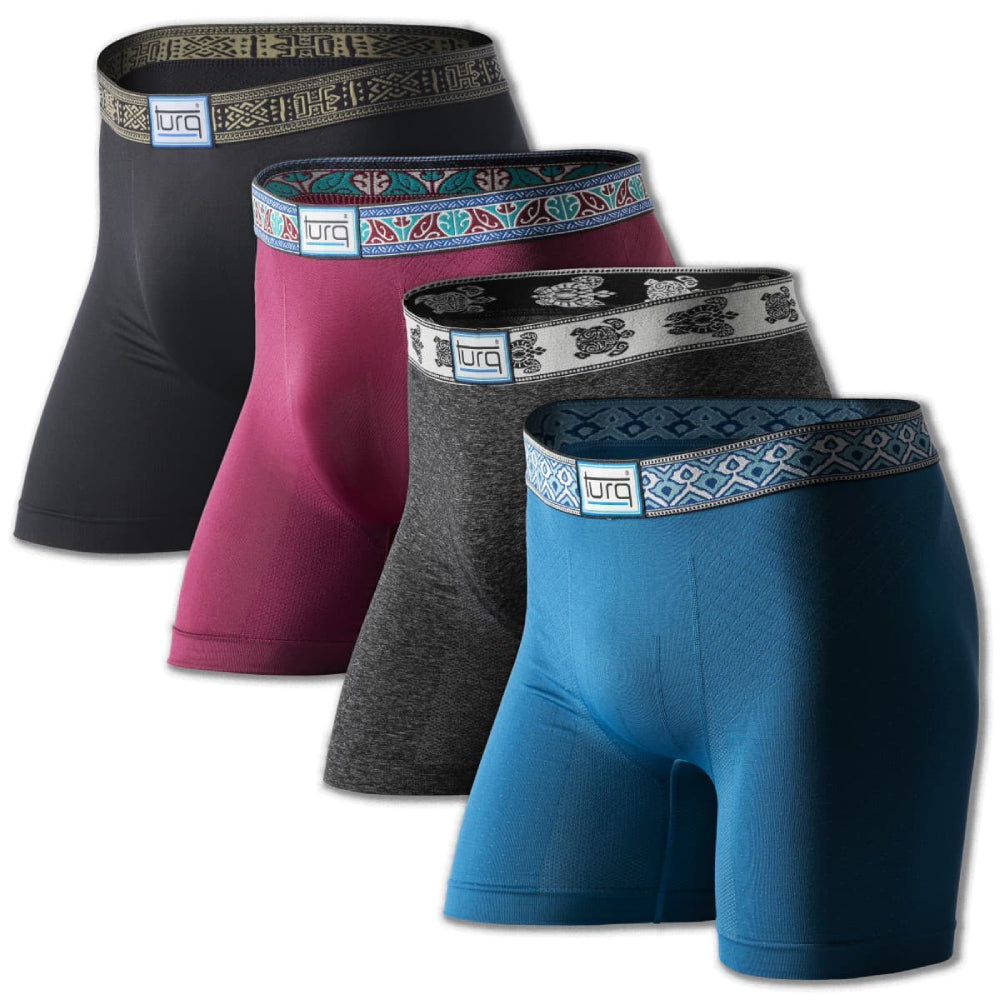 So, you've finally talked yourself into an underwear shopping trip. Good for you! This is first the vital first step to achieving nether-region optimal comfort and support (if your current underwear collection is  lacking, like so many of us) The problem is, with such a staggering array of options of underwear styles and fabrics on the market, you can easily get overwhelmed and cower right back over to an underwear multipack aisle at your nearest superstore.  But trust us, you can do a lot better than that! And owe it to yourself (and your man parts) to choose high quality underwear that can actually meet the demands of your busy lifestyle. 
The material of your underwear is integral to its quality as well as the comfort and support it will provide. So, today we will take a closer look at the different fabrics for men's underwear and why material matters. 
Let's check out the most popular options: 
Old Reliable: Cotton
If you've been walking the path of cotton undergarments since the days when your mom was still picking out your clothes, you'll likely already know that these make pretty good all-rounders. Inexpensive, versatile, and easy to produce, cotton is a firm favorite with underwear manufacturers and wearers alike. This material is soft, hypoallergenic, and imminently breathable. It all but guarantees a pleasantly cool comfort down below until…
You try to take it to the gym! If you're looking for underwear to take you through that challenging workout, then cotton is NOT going to be your best choice. The looser fit makes it more inclined to uncomfortably bunch under more close-fitting gym gear, and while it may suck the sweat from your body with all the eagerness of a thirsty fly in June, it traps that moisture right there in the fabric, which is one of the biggest risk factors for chafing.
A Touch of Class: Silk
There's no doubt that silk (the royal favorite) adds a certain amount of luxury to your life - as well as your underwear drawer. Furthermore, how smoothly it cups your package will undoubtedly feel like a cause for celebration. Congrats! You've found your leisurewear undergarments of choice. They will also be far more impressive than your day-to-day options for impressing someone you're desperately hoping to impress (wink, wink) 
Yet, much in the way of cotton (and most other natural fabrics, for that matter), silk is not known for its quick-drying properties meaning that in high heat and humidity climates, it's going to cling in a highly uncomfortable way. As well as that, silk is a pretty fragile fabric (with a price tag capable of making your eyes water), so you might decide to keep these for your best occasions and certainly not for the gym, where it will offer next to no support. 
Warm and Winter-Friendly: Merino Wool
Wool fabric has a pretty bad rap when it comes to underwear, inspiring visions of unsightly long johns, for example. It's often viewed as old-fashioned and not to mention, hot and itchy. Yet merino wool is a relatively recent addition to the underwear world that's changing many of those views. Both finer and softer than traditional wool, merino feels pretty good to wear, is very hygienic, and boasts incredible temperature-regulating properties.
It is by no means perfect, though. Probably best suitable for winter-time outdoor wear, wool is great for keeping things warm - not so much for helping with cooling them down. Not really what you want while you're running around. It does also have the pesky habit of retaining moisture, making it not the best choice to wear at the gym or during a challenging workout. Beyond that, much like silk, merino wool is a costly and less-durable-than-average pick. 
Sports-Minded: Polyester
To address the various limitations of natural fibers, synthetic ones were created. Polyester is a thin, lightweight material that fits like a second skin. It's durable, wrinkle-free, and, best of all, wicks away sweat like a champ allowing it to quickly evaporate, so the wearer gets to remain powder dry no matter how hard they are sweating. Above all that, more rigid polyester provides precisely the right kind of support where it is needed most. 
Where polyester is the reigning champ in dryness, it is let down significantly by its lack of breathability. With fibers that are so tightly meshed, just about everything gets trapped inside - heat and odor alike. This creates the kind of unhygienic environment that supports bacteria and fungus growth. So while polyester might be good in short bursts, when you need well-fitting gear, you won't want to wear it any longer than that. 
Strong and Sure: Nylon 
A lot less available than cheaper polyester but far more pleasant to wear against your more sensitive areas, Nylon is another adequate choice. While not available in the same number of options (nor at the same price) as polyester, it has the edge in most other ways. For a start, it is far stronger and (with the right care) longer lasting. It's also better at releasing the nasty odors that can be a real issue for those who like to work out hard.  
For all its positives, nylon does worse when it comes to its breathability. Heat will make the wearer sweat far more than the fabric can keep up with - which increases the risk of chafing. Also, when wearing it for prolonged periods, it will become less comfortable by the minute. So, for the gym, this could be a good option, but you're unlikely to select nylon underwear for hanging out at home or heading to the office. 
Famous For Working Out - Spandex 
Commonly known by its brand name "lycra," spandex has been a firm workout favorite for a long time, as evidenced by workout videos of the 80s. The biggest benefit of this highly flexible material is that it allows for the greatest range of motion. You'll feel utterly unrestricted while wearing it. This makes it perfect for activities that require a lot of action, such as many types of sports, yoga, and weightlifting. 
Once again, the issue of breathability rears its ugly head here. That can be a serious issue when you have something sitting as close to your skin as spandex does (rather than hanging loose the way natural fibers tend to). So, these might be the right choice for the gym, sports, running, or biking, especially because they hold their shape well and are nicely supportive. However, you aren't going to want to wear them for anything beyond that. 
Your Underwear Solution: Performance Underwear
You might be wondering at this point whether there is any perfect material for underwear. It certainly seems that every fabric has just as many ticks in the cons list as in the pros. Happily, manufacturers faced with this conundrum for a while now have come up with some pretty innovative solutions. 
Take our performance underwear, for instance. Combining all the best features of the synthetic options with benefits of traditional fabrics too, we have created sports-ready underwear, designed to meet the demands of the modern man's busy lifestyle. The nylon/poly/spandex blend provides wearers with a seamless, supportive fit that allows for unrestricted movement with no bunching. 
Utilizing the moisture-wicking capabilities of each fabric, we have incorporated ventilated air-flow sections that allow for all the breathability of natural materials. The silver-infused antimicrobial fibers enhance downstairs hygiene while keeping nasty smells at bay. 
So, whether you're off to the gym, hanging at home, on the field, in the boardroom - wherever the day's adventures take you - you can enjoy all-day optimal comfort and support. And of course, so you can take on the world confidently without the chafe! (Not to mention, the sleek, modern and attractive styles will likely come in handy too, wink, wink )
---
Also in Turq Talk