Playing Tennis? Here's What You'll Need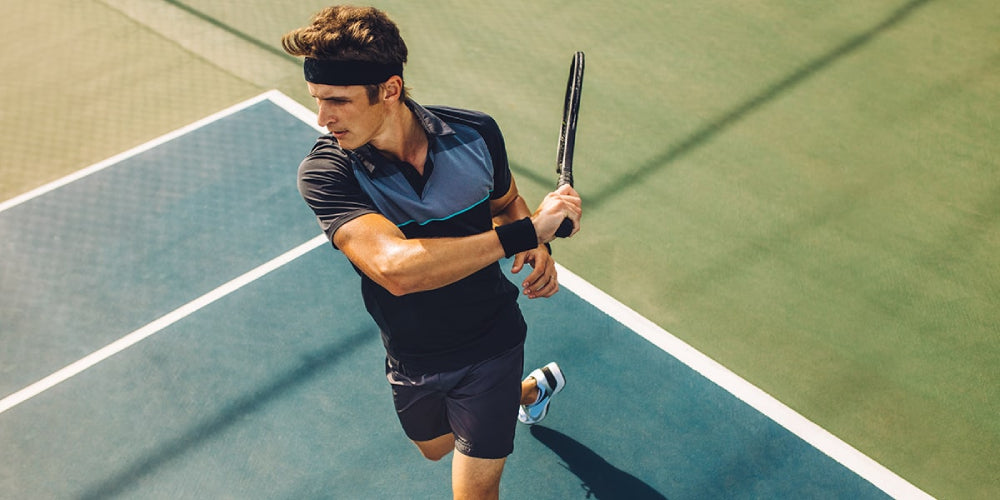 Whether you're looking to try out tennis for the first time or level up your existing skills, you'll want to make sure you've got the right gear. It may seem like any old shorts and t-shirt combo would do the trick, but that definitely isn't the case. Tennis is a competitive and high-contact sport so being prepared with the right clothes, shoes and accessories is essential. It can mean all the difference between not only winning and losing, but also having a good game. 
Let's break down the basics.
Tennis Outfit
While it's not necessary to opt for specific tennis clothes per se, the outfit you choose will need to keep you cool, comfortable, and protected. You'll also want clothes and shoes that are up to the demands of the game. 
There is quite a bit of movement involved in tennis - perhaps more than you realize if you're not a frequent player. You'll need to sprint, stretch, twist, jump, and more. For this reason, opt for clothing that will move with you (not rub against you) and that won't hinder you when you're lining up a serve or slamming the ball back across the net. 
You'll also need to factor in the dress regulations of the court. Some have precise rules of dress that are not just about safety but style too. Usually, in a park or public court, you can wear whatever you want. Just don't let your shoes tear up the surface of the game space. At a tennis or country club, things will likely be very different. It's best to check their requirements before hitting the stores. 
Shirt
Before, men were expected to wear polo shirts for tennis. However, other types of shirts have now become popular, including both collarless and sleeveless designs (although the latter might not be permitted in some places). Whichever style you decide on, it's best to get something that is nicely breathable and fits well. You don't want to overheat or become tangled up in your outfit while you're out there giving it your all. 
There is some debate in tennis concerning which is the best fabric for your tennis shirt. Some swear by the breathability of cotton, and others prefer the sweat-wicking capabilities of polyester. Man-made options will be your best bet when playing in hot or rainy conditions or if you naturally sweat more than most. Cotton may feel great when dry, but add a little moisture into the mix, and it can quickly start to get heavy and unpleasant. Polyester, on the other hand, is a super quick-drying material making this less of a problem. A cotton blend could therefore be a good option as it is the best of both worlds. 
Shorts
When it comes to your shorts, you'll want to factor in the same considerations as your shirt. Select a pair that is reasonably fitted while still allowing for freedom of movement. They should be constructed from well-ventilated, moisture-wicking materials. Pockets are not essential, but they are handy for storing extra balls. 
If you were hoping to wear long pants, running shorts, swim trunks, or regular gym shorts, you'll need to play on a public court, as these are generally not permitted on private ones. Concerned about the cold? Wear a tracksuit out to the court and while warming up, but you won't require them while playing. You'll get far too hot if you're playing a good game. 
Underwear
Even more crucial for comfort, performance underwear will keep you fresh and comfortable while preventing chafing or thigh rub. The importance of having the right undergarment is often overlooked, but what's the point of splashing out on a nicely fitting pair of shorts with moisture-wicking and cooling technology if what's under them isn't properly equipped to do the same job?
Your performance underwear should be engineered for those with active lifestyles, to offer you all-day comfort and support without restriction, and quick-drying technology with ventilation to keep you feeling fresh and cool in your nether regions. This kind of chafe-free support won't keep you bogged down by any potential irritation or discomfort - so you can keep your mind fixed firmly on perfecting your backhand. 
Sports Shoes 
As with most sports, wearing the right shoes is vital to your game. Sports shoes are generally a requirement on every court, and it wouldn't be sensible to try and play without them. Tennis shoes tend to be slimmer and more lightweight than all-purpose sneakers. They keep you stable while still enabling you to move well, making winning points that little bit easier. 
The exact type of shoe you opt for will likely depend on the court's surface (and, of course, its rules). On a hard court, it's better to go for relatively smooth, non-marking (usually white) soles that are the staple of most tennis shoes. However, if you do find yourself playing on grass, you'll likely need a little more grip - especially in, or just after, wet weather. Whatever you choose, respect the court by leaving no trace of your game behind. 
Sports Socks 
Don't waste the benefits of decent shoes by pairing them with cotton socks. While cotton is a very versatile fabric, it doesn't deal too well with sweat. Trapping moisture in the places your shoes are comfortably snug will likely result in serious blisters. This will definitely spoil your game - not to mention your day. Fabric is not the only consideration. A decent pair of tennis shoes will provide extra cushioning and support as you jump and slide around the court. 
Sun Protection 
Tennis tends to be a summer sport. So, if you are playing outside, you will want to consider protecting your face and other body parts from those harmful rays. The sun can feel scorching out on a court with no shade, so even if you think you can deal, you might think twice when you're actually out there. 
A hat is not required wear, but if you get one with a visor, it will not only help shade your face but also help keep the glare out of your eyes when you're moving for the ball. Sunglasses can also help with this. The other good thing about a cap is that it doubles up nicely as a sweatband preventing that horrible sting from impacting your performance. 
Accessories 
Aside from your racket and some decent balls, you won't need much else for this game. However, a wooly wristband on your racket hand can support it against the impact of the racket making contact with the ball. Ankle and knee braces can also provide additional support in these areas as required. 
So, there you have it - everything you need to complete your basic kit of tennis essentials, whether you have your eyes on the pros, or you will play a more occasional game. As you get more involved in the sport and your skills improve, you will begin to get a better feel for the type of clothing and gear that will be more suitable to your individual needs and style. 
---
Also in Turq Talk