What To Pack For Soccer Camp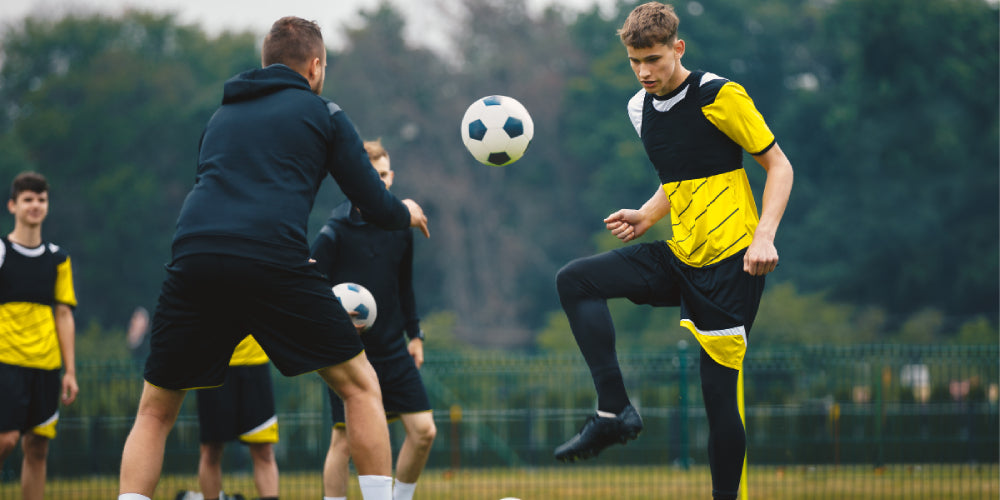 Packing your little sports star off for their very first soccer camp adventure is an exciting time. However, you'll want to ensure they have everything they need to make the experience a success. Soccer has specific kit and equipment requirements, so you'll need to be prepared. 
Read on to ensure your kids have everything they need for soccer camp, be it a day camp or sleepaway.
Pro tip: don't forget to label everything to ensure it finds its way home again after!
Appropriate Clothing 
It goes without saying that when it comes to soccer, wearing the right stuff can make a massive difference on how well (or poorly) the game goes. Shorts and t-shirts are the obvious outfit choice, but you'll want them to be designed specifically for sports - preferably from synthetic materials. The fit should be loose enough for movement but not too baggy to slow down your little champs.
As with the outer layers, you will want to make sure your kiddo's underwear will also meet the demands of his active lifestyle. Choose high quality performance underwear for youths.
Crafted with freedom of motion in mind, they should feature seamless construction with a smooth, supportive, non-chafing fit. Silver-infused microbial fibers ensure all-day odor control, and ventilated air-flow fabric with quick-drying features keeps the little ones feeling fresh all day long making them perfect for long days out on the soccer field.  
Don't forget they will also need to have a snug top layer on standby for when practice is done. Even in warmer temperatures, prolonged physical activity (particularly when sweating) can make you feel cold immediately afterward. A rain jacket is a good idea, too, no matter what the forecast says. If the camp is in the winter, consider including soccer pants and a long-sleeved undershirt to help with layering for warmth. 
Suitable Footwear
High-quality cleats are another soccer camp must. After all, this is a sport that relies on fancy footwork. Having the right shoes enables players to grip the ground, providing both traction and friction while making quick turns and sprinting even in less-than-ideal conditions. Proper athletic shoes also support your children's feet, helping them avoid injury and allowing them to keep their focus firmly fixed on the game. 
Alongside these, you will need to pack a pair of regular sports shoes for when practice gets moved inside. For overnight camps, a pair of everyday sneakers or flip-flops are perfect for post-game use. For all the above, work with what your kid already has rather than rushing out to pick up something new. The last thing you'll want is to subject your kids to the kind of painful rubbing and blisters that new shoes can cause with heavy early use. With that in mind, don't forget to include plenty of spare (soccer design) socks. 
Necessary Equipment
While you'll need to check with the camp for specifics here, children are generally asked to bring individually required items such as a soccer ball, shin guards with sleeves, tapes, and straps, and goalie gloves (if applicable). These will all need to be age-appropriate for fit, including the ball. Kids typically start with size 3 soccer balls at age two and progress to full-size adult ones (size 5) as teenagers.
You'll also need to pack a refillable water bottle. The best ones for kids feature a sports nozzle making it effortless for them to slurp during practice, a leak-proof lid that prevents spillage so they don't arrive at camp with sopping wet clothes and a carry-friendly handle as they'll be schlepping it around everywhere with them. A sports bag is another essential. Pick one with a separate compartment for dirty shoes if you can. Otherwise, a boot bag will stop mud from getting all over everything.
Handy Accessories 
Whether it's a day camp or overnight one, it's vital to send your kids off to camp with sunscreen. During long days out on the field, they will have a lot of exposure to the sun's harmful rays so they will need to be sufficiently protected. Make sure to pop a bottle in their bag as they will likely need frequent top-ups throughout the day. A sun hat will also provide excellent protection for their head, neck, and face during the heat of the day.
For summer camps, bug spray is also a must-have to help keep away the creepy crawlers that would make your little players feel itchy and miserable all day. 
Night Things
If your kids are headed to sleepaway camp, there are a few more essentials to consider. This includes their night-time stuff like pajamas, personal toiletry items, any medications, and leisure equipment such as electronics and chargers. Most camps ask attendees to provide their own bedding or sleeping bags and pillows, and towels too. Do check with individual camps, though, as they may have their own special arrangements for this. 
Finally, depending on other activities on the agenda, you will likely need to think about regular clothes, swimming clothes, sunglasses, money for drinks and souvenirs, and a plentiful supply of healthy snacks to tide your kids over. 
Another pro tip: slip some newspaper in their pack. This can be used overnight to dry out damp cleats so they are not all squelchy and unpleasant to pop on the following day. 
So there you have it, all the basics your children need to enjoy their time away at soccer camp. Likely, you'll already have a lot of these lying about the house anyhow, but it pays to be organized. It's a good idea to create a checklist to keep track of everything your kids will need and then also make sure to help them pack well in advance. Then all the kiddos need to do is keep their head in the game and focus on having a fantastic time. 
---
Also in Turq Talk