What To Pack For Band Camp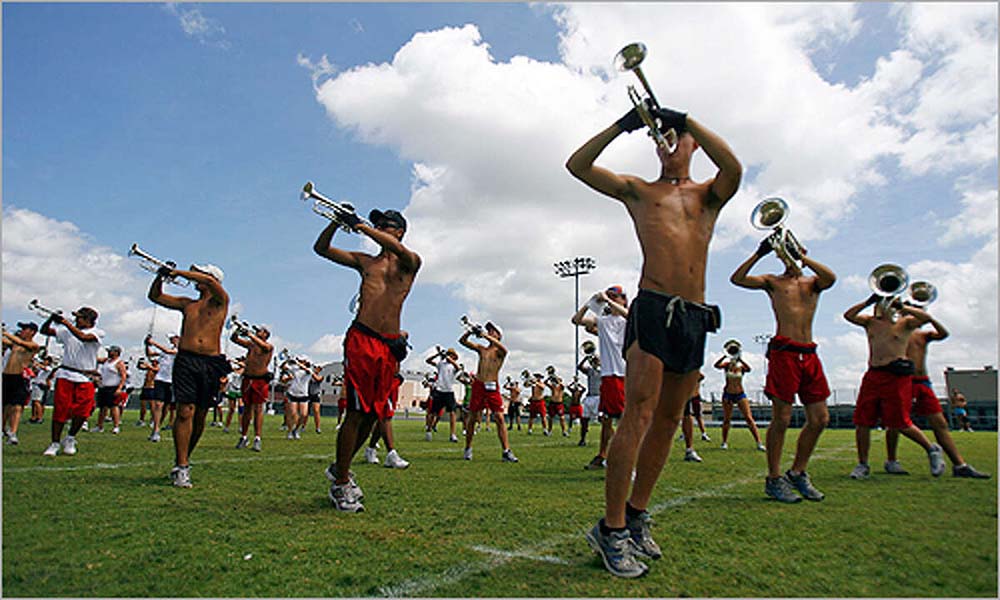 Camp season is coming up before you know it, so it's time to make sure you're prepared. Whether you're getting ready to play with DCI, DCA or your high school or college brand, there are certain essentials that will not only help you survive band camp, but thrive!
If you're a seasoned pro, you're likely good to go, but if you're headed out for the first time or you're sending your kid(s) to one of these programs, you're probably wondering what the essentials are. 
Here are some of the must-have items you need for band camp. 
A Big Water Jug
Frequently overlooked but absolutely necessary, a water jug should be with you all day long.
Dehydration can be a real issue at band camp, with all that moving about in the hot summer sun especially if the temperature climbs into the 80s and beyond. Even with cloud cover and a breeze, you're still likely to be sweating a fair amount. Replenish the lost water at every opportunity. Don't wait until you feel thirsty. At that point, it could already be too late. 
While it may be tempting to opt for a smaller, more lightweight water bottle, this simply won't cut it. You will constantly be going back and forth for refills meaning tons more walking. A large water jug makes far more sense. Make sure to choose one that's insulated to help keep the water inside cold, making for a more pleasant drinking experience and helping cool you down too.
Good-Quality Shoes
When you're on your feet all day long in poorly-fitting shoes, you will definitely know about it! The same can be said for new shoes. So if you've purchased some new shows specifically to use at band camp, don't forget to take the time beforehand to break them in properly. Painful rubbing and pressure from ill-fitting shoes will certainly be a hindrance to your practice and performance. 
You may be keen to wear your regular everyday sneakers to save money, but these often don't offer enough support. Wearing proper athletic shoes may feel like overkill, but trust us, your feet will thank you for it after you've marched a few miles. Open-toed shoes such as flip-flops and sandals are a no-no for practice but might provide a bit of welcome change for the evenings. 
Plenty of Pairs of Socks
The quality of your shoes is for all for naught without a decent pair of socks. While they are typically fine for everyday use, cotton socks are not suitable when you're more active as they tend to attract and retain moisture. This creates the perfect situation for the kind of friction that leads to painful blisters, even if you are wearing supportive shoes. 
Seek out socks made of synthetic fibers - again, the kind used by athletes. Unlike cotton, they are super quick-drying and reduce the risk of rub. Whichever ones you pick, you'll want a plentiful supply to keep your feet feeling fresh all day long. 
Anti-Chafe Underwear
It may not be the first thing you consider, but the right undergarments are also vital to ensure you have a successful and enjoyable band camp experience. Once again, it is best to avoid cotton here as it can create a damp, hot, sticky and unpleasant feeling in your nether regions that will definitely get you off your game. Think about it. If the thought of any friction on your feet concerns you, imagine that feeling on your family jewels - not good! To top it all off, a moist environment helps smelly bacteria and fungus thrive which can even lead to infections. 
You will want to stick with performance underwear that is thoughtfully designed to live up to the needs of an active lifestyle. Look for a smooth and seamless design with features like ventilated airflow, quick-dry fabric, and silver-infused microfibers that not only keep you well supported, but also keeps your parts feeling cool, fresh, comfortable, and chafe-free all-day long. 
Suntan Lotion 
Don't forget to pack yourself some SPF.  Looking like a lobster isn't a great look and after hours and hours marching around in the sun, you're likely to get a nasty burn if you aren't sufficiently protected. SPF 15 is the bare minimum. However, it's far better to opt for something upwards of SPF 30 to make sure your skin is protected from those harmful rays. 
Make sure to choose a lotion that is either "broad spectrum" or has "UVA/UVB protection" on the label to be safe, not sorry. Apply it in the first 20 minutes before you head out into the sun. And continue reapplying at regular intervals throughout the day. And that's SPF 101! 
Hats and Sunglasses 
Protecting your head and eyes from the sun is also vital to keep you feeling up to par and avoiding uncomfortable sun-related headaches. Stick with a wide-brimmed hat to help keep your head cool and protect your face from the sun. One that covers the back of your neck too will be even better. Not only is the back of the neck a prime spot for a burn, but it is also one that often gets overlooked when applying sunblock.
Athletic sunglasses will keep the glare out of your eyes when you are trying to concentrate on playing and moving about too. They will also prevent you from being blinded by the sun every few steps you take. Not all glasses are created equal, though. Choose a pair that offers 100% UV protection for best results. 
Comfortable Clothes 
Being prepared for any weather conditions is the name of the game when it comes to choosing your band camp clothes. Light layers are great as they can help keep you warm on cooler mornings and ventilate the heat on warmer afternoons. Pick loose-fitting materials so as not to restrict your movement on the field. Light colors are better if the forecast predicts plenty of sun as they tend to retain less heat than darker hues. 
Anything you pack should be appropriate for outdoor athletic exercise (again, think quick-drying man-made fabrics over cotton). A waterproof jacket is a good idea. Chances are, if you don't pack one, it will rain at some point no matter what the weatherman says, and you'll end up damp and miserable. Don't forget to check with the camp director regarding the type of clothing you need to make sure you're covered. Some band programs have specific clothing policies or want their band members to perform in certain colors. 
Band Equipment
Finally, alongside your instrument, of course, don't forget the all-important accessories you need to maintain it, use it, and carry it too. Depending on what you play and what the camp supplies, you may need:
A pencil

A dot book

A lyre (If a wind player)

A flip folder and extra windows

Extra white gloves (if a wind player)

Drum tape (if in the drumline)

Reeds/mouthpieces/straps (if a wind player)

Lubricants (if a horn or woodwind)

Cleaning supplies and a polish cloth (if a horn player)
Pack all of this, and you'll have the basics covered. However, it's still a good idea to check the specifics of the camp you or your kids are going to for more detailed information, especially when it comes to equipment and accessories. As long as you have the right supplies and the right attitude, you're bound to have an amazing summer at band camp. 
---
Also in Turq Talk