How To Set Fitness Goals That Are Actually Achievable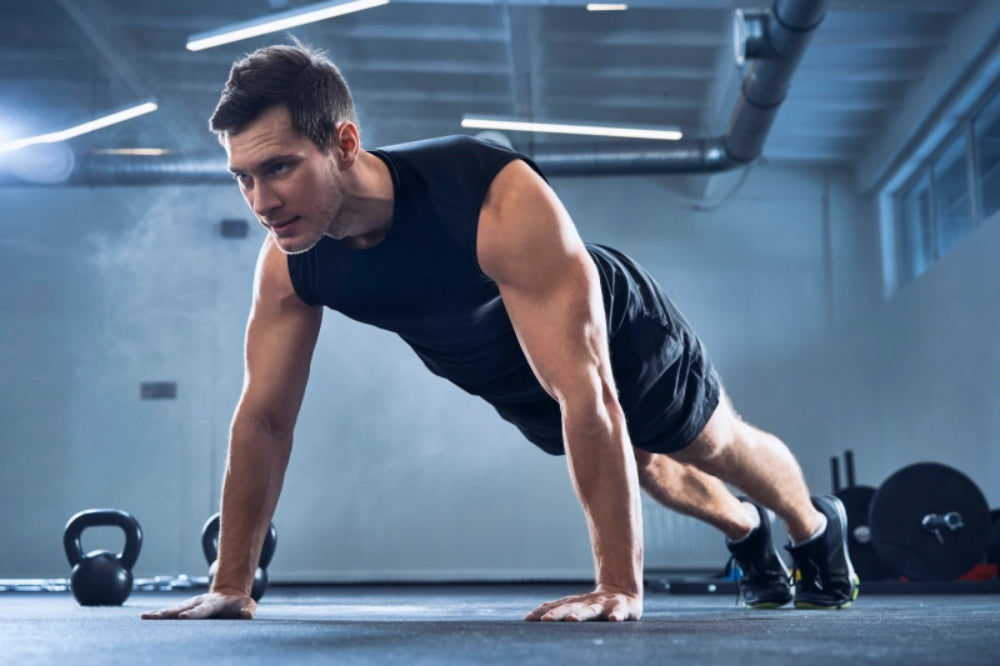 Whether you're trying to maintain a regular workout schedule, boost your endurance, or increase muscle mass, setting fitness goals is the best way to make this happen. However, this is easier said than done as picking the right ones for your needs can be challenging. 
Aim too high right out of the gate, and you'll be setting yourself up for failure before you've even begun. Smart fitness choices, on the other hand, will prime you for success and prevent you from tumbling off the fitness bandwagon at the very first hurdle. 
If you're looking for some key insights into setting the kind of goals that will help boost your current performance or help you achieve your fitness potential your way, keep reading. 
Why Set Fitness Goals In The First Place? 
Research consistently tells us that men are more likely to achieve targets if they set goals. This is as true of fitness as it is for any kind of work. And it makes perfect sense if you think about it. Having something to work towards can be a powerful motivator. Setting goals can give you that extra bit of incentive to get your daily workout in rather than snoozing your alarm and succumbing to your bed, even on those frigid mornings. They can also help when it comes to pushing through the inevitable, albeit temporary soreness and discomfort that you experience when you first start a fitness regimen that will eventually pave the way to real and lasting health benefits.
The right goals ultimately are also much more attainable, and will keep you invested so you can stay on track and on your day-to-day grind. They will also challenge you to aim higher and try harder to continuously improve.
And even better, you'll be able to plot a straight and solid course toward the larger fitness goals that have somehow always felt just a little too out of reach. 
Sounds good, right? Let's take a look at how you can get going: 
Pick Something You Enjoy - No, But Really! 
People tend to focus on the end results rather than on the journey it takes to get there. So, in terms of fitness, many people may choose to do intense workouts over more realistic ones because they think they will get them to where they want to be more quickly. The problem is they don't realize exactly what they're in for. And once they realize how challenging the workouts are, they get winded, discouraged and feel like immediately throwing in the towel. Think about the dude looking to drop a few pounds who then hits the pavement hard. He feels miserable doing the workout, burns himself out, and never reaches his fitness goals. Sound familiar? 
But you don't need to suffer to see results! Hard workouts are not only physically challenging, they can discourage you from working out at all. Rather than looking to make overnight changes, realize that you're playing the long game and you just have to find the right game for you. You're far more likely to give it your all and keep doing it, too!
So, consider workouts you think you might actually enjoy. Maybe, HIIT is a little intense for your liking, but yoga, pilates, jogging or even swimming is more your speed. 
Keep Your Goals All About You
While you're figuring out what type of workout will work best for you, also consider exactly what you want to achieve in terms of attainable aims to set for yourself. If your fitness track record is more about watching sports than playing them, comparing yourself to the record of a pro athlete or lifestyle influencer will only make you feel like a failure. And then, you're left wondering if setting fitness goals is even worth the effort at all.
Ignore what everybody else is doing and focus on bettering your own performance. When setting goals, make sure they are achievable for you. You should be around 90% confident that you can get it done. This may seem a bit of a cop-out, but you'll be amazed at what you can get done with the help of these micro-goals that help you gain those much-needed early victories, keep you motivated and build your confidence. 
Make Your Targets Measurable To Make Them Achievable 
One of the biggest issues with fitness goals we set for ourselves is determining when we've actually achieved them. How do you know when you've gotten fitter? How do you gauge that you can now play a better game in whatever sport you want to improve at? 
That's why you should always include a measurable metric in your fitness goals. 
While this will look different depending on your specific wants, it's always better to focus on performance stats (rep rates, speeds, weights) rather than outcome ones (scale and tape measure numbers).

This is true because: 
Losing weight or gaining muscle massing is an up-and-down road, with progress being achieved and lost seemingly at random. (Few steps forward, few steps back)

Outcome goals take far longer to realize. You'll also have fewer successes along the way, which can leave you feeling deflated. 
If you set specific performance targets, however, you can adjust them so that you're churning out those all-important wins every two or three weeks with guaranteed positive outcomes. These little achievements will quickly add up to the larger ones you likely have been secretly aiming for all along. 
Whatever the focus of your fitness journey and the methods you choose in getting to your destination, one thing you want to be able to count on is your gear not letting you down. If you're truly serious about what you're doing, you'll pick out the best clothes for the job - and the same should be true of what lies beneath. 
Performance underwear is engineered for an active lifestyle with an array of features to keep you cool and comfortable as you focus on being your best you. Seamless construction provides a snug fit with plenty of flexibility for movement with optimal support and separation. Quick-dry, ventilated fabric keeps you breezy and chafe-free even during strenuous workouts. While added silver-infused microfibers create a healthy, happy, and odor-free environment for your family jewels. All this, and they look pretty great too.

What can be better as you pave your way towards reaching all your fitness goals?
---
Also in Turq Talk