5 Reasons Turq Is The Best Performance Underwear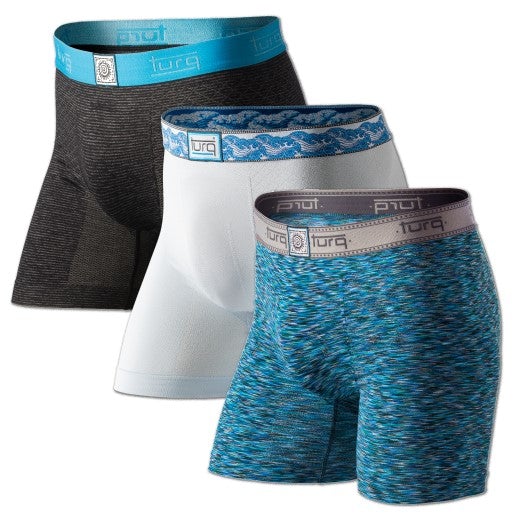 What makes underwear great? How you feel in them, how well they fit, the foundation of support and comfort they offer, etc. Ultimately, it is about the confidence you feel wearing them, knowing that you can depend on them when you need them the most. And no matter what the day's adventure brings, you will feel cool, dry, supported and supremely comfortable all day long.
As we know, not all underwear is created equal. Here at Turq, we are passionate about producing men's performance underwear that live up to the needs of today's active, busy lifestyles, helping you rise to the potential to perform optimally no matter the situation, from on and off the field to in the boardroom and beyond. 
And of course, to take on the world confidently without the chafe!
Let's break down 5 reasons why Turq is the best performance underwear out there and the one you should be committing to! 
Optimal Comfort from Surf to Turf
When's the best time to wear Turq's line of underwear? Well, anytime really! While they were made of materials that were designed for performance wear, the truth is that they continue to offer your incredible comfort and support throughout your day. 
Turq's performance underwear is designed to keep you cool, comfy, confident and collected all day long, no matter the situation. Engineered with smart and savvy features like silver-infused hydrophobic microfibers, Turq's performance underwear was created to meet the demands of your active life. 
Amphibious performance underwear you can depend on from surf to turf, it provides an ideal base layer for any guy who sweats or gets wet. Whatever the day holds, whether you are running, training, surfing, you can do it with confidence. Turq's moisture-wicking material will keep you cool and dry and silver-infused microfibers will help fight off bacteria-induced smells to maintain a hygienic environment that prevents chafing. And ultimately, the supportive, form-fitting and lightweight design will elevate your underwear-wearing experience to the next level. 
Supreme Support 
Turq's combination of design, materials, and features are thoughtfully designed to provide unrivaled support throughout your endurance journey. Seamless construction offers supreme support for the body with a smooth fit that keeps the boys separated and in place, without limiting any range of movement. This means that whatever the day holds, from a day at the office to an action-packed schedule of high octane activity, a pair of Turqs will provide you with the support that you need.
The Paradise Pouch builds upon the brilliant features of our Freestyle Fit, including a designated pouch that keeps the boys supported and separated from your thighs, for all-day friction-free comfort and support. 
A Smart Choice for Better Health and Hygiene
Sure, when it comes to an undergarment that is housing and supporting your nether regions, you want to be confident that it has your health and hygiene in mind. Silver-infused microfibers provide natural defense against the buildup of bacteria to not only combat odors but help maintain a fresh, breathable and hygienic environment down there. Ventilated airflow with strategically-placed mesh panels helps promote optimal breathability while quick-dry technology helps to wick away moisture to keep you feeling cool, comfy and dry. 
Prevents Chafing 
With a pair of Turqs you never have to worry about friction, irritation or chafing. Salty, sweaty and moist skin environments are usually a recipe for disaster that encourages uncomfortable and even painful chafing. A foundation of optimal support means that everything stays in its place without limiting range of movement. Add on supreme breathability and moisture-wicking material, and you can be confident that you will stay comfortable and supported all day long without the chafe. 
Modern Design 
Not only do you get incredible quality with a pair of Turqs — you get an array of modern and fashionable styles. And you thought with all of our advanced features, we would forget about design? In order to create the best underwear to support the needs of today's busy, high performance men, our underwear has to be pretty stylish too, to make the grade, 
Our STOKED collection features patterned waistbands inspired by traditional Indian, Turkish, and Indonesian influences for bold and bright flashes of color that you can show off over the tops of your shorts, jeans or swimwear. 
Sleek, sexy, streamlined —  a pair of Turqs looks just as good under your clothing to create an attractive silhouette as it does when it is all that you are wearing.
Seamless and savvy construction and strategic and thoughtful modern design that keep you confident, comfortable and supported all-day long without any worry of chafe? 
That's what sets Turq apart from the rest.
With the right foundation of support and comfort, you can take on anything to live up to your potential and achieve high performance in any area of your life. Take on the world and whatever adventures the day has ahead with a pair of Turqs!
---
Also in Turq Talk