Turqs are awesome gifts for the active guys on your Christmas list.  But there's a lot of other cool stuff out there this season!  Turq wants you to be the best gift-giver this holiday season so we're sharing some of our favorite gift ideas!
Let's start off with the always impossible-to-please pre-teens to college-aged daughters or sisters. Mowgli Surf is a California-based company and their retro-inspired styles would be an awesome addition to any girl's closet. From tye-dyed backpacks to pineapple shirts to rainbow bathing suits, Mowgli has you covered. Unique and authentic gifts for sure.  Find these items at http://www.mowglisurf.com
Now on to the little guys who don't need any more t-shirts in their closets. This is the perfect time to get them a snowboard form Burton. Burton just came out with a collection of Star Wars themed snowboards that look amazing.  With the new Star Wars movie coming out December 18th, you'll be right on point with this gift.  It's a perfect way to kick off snowboard season too!
When you have a ride that cool–you can't stick it in a closet. Showcase that bad boy on a hand-made decorative bamboo rack from Grass Racks. Grass Racks is a Pennsylvania-based company started by sports-enthusiasts who created a way to stylishly display their gear that is strong and functional, but also easy to install. They create sustainable bamboo products from snowboard and skateboard racks to tables and stools. With racks starting at just $50, they're a perfect way to show off the new Star Wars ride. http://www.grassracks.com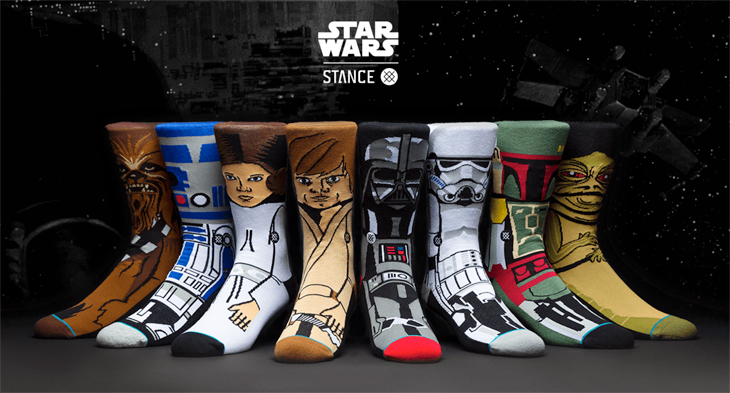 Speaking of Star Wars, another one of Turq's favorite gifts are these awesome character socks by Stance. They'll be rocking The Force in style and comfort with these crazy kicks. Our favorite is Jaba the Hut.  Next to Turqs…this is our favorite accessory this season. You can find them at:  https://www.stance.com/starwars
For the College kids on your list (or enthusiastic alums) we love Rastaclat's collegiate bracelet collection.  Who needs another hoodie?  These hand-knotted bracelets are a much cooler way to wear your school pride.  Available at:  https://www.rastaclat.com/collegiate
Happy shopping!